I saw the Mod post, I had posted this in the wedding comm and I don't know why I hadn't posted here.

I did just about everything possible DIY, my motto was why pay for it when I can do it myself? My DIY includes -

-Flowers - done by my MOH and grandma
-My veil
-the hair flower I am wearing
-My daughter's headband
-ring bearer pillow
-aisle runner
-matchbook wedding favors
-hot cocoa wedding favors
-guestbook
-invitations (I bought the pack from Michaels and designed them and added some embossing)
-my MOH made my "bride" hanger
-programs, same with the invites, bought the package and designed them myself
-the cake and cupcakes were made by my MOH as our wedding gift
-menus
-place cards
-centerpieces
-unity candles - in total cost me about $5, I just couldn't pay $40 for a set!
-all of the decorating/organizing/planning was done by me (that's DIY right??)


Anyway, here is my entire post with a BUNCH of pictures.


My wedding was December 28, 2010, I've finally got all of my photos uploaded to flickr and figured I would do an update post! I posted a few times leading up to the wedding, we got married in South Padre Island, TX.

Update
2 months out/Engagement/Bridal Pictures
flickr picture page

Things went [almost] smoothly enough, just about anything I could do DIY I did so naturally, there was a lot of stress the days leading up to the wedding. I remember a post a while back, someone was asking about hiring vendors versus using friends, now that my wedding has passed I would definitely say if at all possible hire your vendors!! My maid of honor is an aspiring baker, really good, so when she offered to bake our wedding cake I was all for it! Well, it was a lot of stress on her and this is something I most likely would have changed if I could go back, the cake was delicious and beautiful but I don't know if the stress and pressure was worth it all!

Secondly, her mom volunteered to do our flowers and everyone's hair and make up. She did my hair/makeup for my bridal pictures which came out gorgeous and I know she works really well with flowers so I was very excited to not only be saving a ton of money but having her do the flowers would add just a more personal touch to the wedding. All of this was planned perfectly, except for one unforeseeable incident. She got sick two days before the wedding and was in the hospital for a week! I was in a panic! Thankfully, I had so many amazing people around me and we were able to put all of the flowers (bouquets/bouts) together ourselves the night before, my grandma who had never worked with flowers before spent an hour in front of youtube and we all stayed up until 2am the night before the wedding putting them all together.

Aside from my maid of honor being sick also and me feeling a bit off those were the only snags, other than that, everything went perfect!

The best decision I made concerning the wedding was hiring an amazing photographer! This was the only part of the wedding I didn't skimp on because I knew it was important to me. From the beginning I knew I wanted to hire her, I did so much DIY and saved a lot of money, having the photographer be about 1/3 of our total budget didn't bother me one bit. The price more than doubled the caterer (which we got for WAY CHEAP). Anyone in the Houston/Austin/Texas area do consider her, Kimberly Chau. She comes HIGHLY recommended!!





DIY Invitations, I bought the back from Michaels and designed the text myself and added the embossed detailing



My maid of honor made the hanger, she was going to buy one from Etsy that had "Mrs. NewName" on it but it would have taken too long to be made.



Shes from Dessy, super comfortable!



DIY hairflower and headband for my daughter



My Maynard wine! My mom gave me this bottle a couple of years ago, she bought it from the wine signing tour Maynard did a few years ago and I was saving it for the perfect occasion. As we were getting things ready to leave for the island to the wedding I got the wine down from above my cabinet and wiped off what I thought was dust but was really his signature! Total "i can't believe I did that" moment! It was delicious, well worth the wait!



All of my jewelry, all from Etsy. I worked close with the lady I bought these from, she also made my bridesmaid's jewelry, my daughter's necklace and the bracelets I gave the moms/grandmas which I regrettably don't have pictures of.



my daughter's necklace



I love all of her detail pictures



Another amazing tip I got from someone here, buy a brand new scent of perfume for your wedding! I followed the advice, bought a new perfume I had never worn before and wore it on the wedding day and for all of my honeymoon, the smell takes you back in an instant!



on the dock right behind our hotel



DIY! I designed the monogram, blew it up, printed, traced, painted. Simple!



I bought some silk flowers from efavormart for cheap and used them for rose petals, it was very simple and very cheap!



our daughter, she pleasantly surprised me with her behavior the day off, she was perfect!



practicing



DIY pillow! We used the same ribbon for my bouquet



All of the bobby pins bug me! One detail we overlooked, other than that I loved the way my hair turned out (done by my maid of honor and bridesmaid)



As soon as she got to the end of the aisle she saw her dad standing there and got all excited and ran up to him, then she remembered the flowers!



I made my veil also!



My DIY bouquet, I think it was perfect!



Our guestbook, on each page I had put an engagement or bridal picture and we told people they could either write on the pages or on scraps I had cut out, I haven't assembled it yet but it was a hit!



placecard table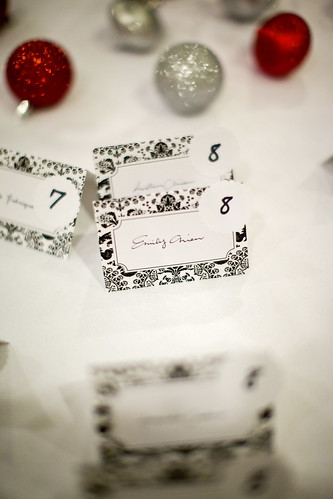 I had a friend write all of the names, they turned out beautiful.



DIY embossed thank you favor bags.



DIY matchbooks, the basket was empty by the end of the night!



DIY hotcocoa favors, I made peppermint, regular and cinnamon.



a picture table with pictures from our engagement and bridal shoots. We also had pictures string around the room along the windows.



she wanted to make a speech also, nothing says love like a serenade of twinkle twinkle little star sung by your 2 year old



We danced to Mazzy Star's Fade Into You



We danced to Across the Universe. I was going to pick Tori Amos' Winter, I'm glad I didn't because of the length! Those dances felt like they took forever.



I think this picture is so funny because my face totally sums up how we felt about this little girl, she was all over the place, very clingy to all of my bridesmaids, really just in the way! She was the only one remembered the macarana.



we're all lost!



Another mishap, we paid the caterer to cut and serve the cake as well, we ASSUMED they would bring plates for this but they didn't. It was kind of awkward, we had the attention was was ready to do the cake cutting when we couldn't find any plates. We had to use a charger for the cutting and then my MIL had to run out to buy some plates!



4 generations



My Amandas! Without their help I surely would have lost my mind!



My mom's boyfriend is a brewer at St. Arnold's here in Texas so he brought along a couple of kegs, delicious!



I surprised my Mom by playing Bee Gees "Run to Me", very personal, totally made her cry! She would always play this song for me growing up, her way of saying I'll always be here for you no matter what and this was my way of saying thanks. Very emotional!



My granddad HATES dancing so it was very special to dance with him, ironically, my grandma told me after the song we danced to, Eric Clapton's Wonderful Tonight is one of his favorites.



AFTER SESSION

I really wanted to take some pictures around the beach so we did an after session the next day -



I love everything about this picture.




I hope you enjoyed and thanks for reading!